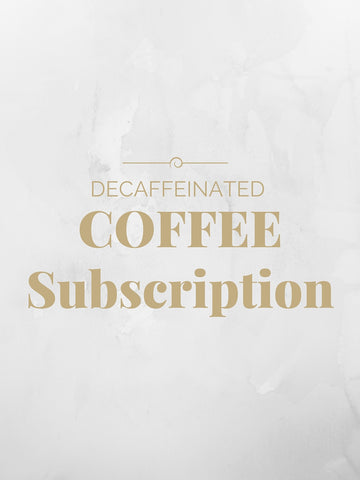 Even decaf drinkers need their fix! Each month (or every other month) you will receive one batch of our unique decaffeinated coffee. Our coffee utilizes non-chemical based decaf system that creates a non-caffeinated version closely resembling the original coffee.
You will receive monthly (or every other month) our current single-origin decaffeinated coffee, in either a 12 oz (333g) batch or a single 2.2 lb. (1kg) bag of coffee. As our selection of decaf is limited, you may receive the same variety repeatedly. Your subscription will continue until you cancel it and you can cancel it at any time.
Your gift subscription will begin on the 1st of the next month by default. You may adjust the subscription after ordering on the My Account page. Your subscription will continue until you cancel it and you can cancel it at any time.
Unless otherwise stated, discount codes cannot be used on our already discounted coffee subscription prices.
---
Related Products
---
Customer Reviews
06/05/2021
Robert M.

United States
08/18/2020
Grace G.

United States
Decaf Love!
We love that the decaf has a rich taste, not unlike caffeinated coffee. We especially enjoy trying different flavors with the subscription.
08/10/2020
Gloria

United States
Decaf decadence
I'm enjoying this bag of decaf. It has almost all my favorites in one sip: chocolate, popcorn, Caramel, puffed wheat and more. Thanks and kudos to the brewmaster!
05/28/2020
John P.

United States
Fresh Decaf never tasted so good!
Our family added Ethiopia Organic Limu SWP DP Decaf to our subscription this month. We were very happy with the Absolved Blend we had gotten the previous month (look for our review of it there), but decided to add the second decaf offering from CbG to try it out. First off, Pastor Gillespie's tasting notes are spot on, but they are also subtle shades of flavor throughout the coffee. when I first read about notes of cocoa in the Ethiopia Organic Limu SWP DP Decaf, a full on Mocha flavor came to mind and a flavored coffee to that degree was not what I am looking for. Instead, these are present but very subtle shades of flavor which might well be adjust with slight shifts in the roasting, nothing like an artificially flavored coffee. This brew came medium roasted without surface oil which is excellent for us as our burr grinder is part of our coffee maker and oily beans require more "love" for the machine to work at its best. The beans and roast combination stand up to cream well if that is your taste, pleasantly accompanying breakfast through to dessert. All of the coffees are well packaged for shipping and, of course, come in resealable bags for freshness throughout their use. Highly Recommended!
11/23/2019
Adrian P.

United States