Hello darkness, my old friend. Tenebrae is designed for total versatility: elegant as a straight shot but sturdy and robust enough to carry its weight in large amounts of dairy. It is a blend of certified organic Africa, South America, Indonesia coffees, equally good as an espresso, with milk, or a dark brew.
Tasting/ Aroma Notes:
Full bodied, with hints of f
ruit, chocolate, and subtle spice.
---
Related Products
---
Customer Reviews
10/11/2020
Stephen T.

United States
Good Stuff...
You don't have to wait until Holy Week to enjoy Tenebrae-- you can serve it up every AM yourself! Thia is pretty close to a "dark roast," yet with softer and more robust flavors. I have not tried it Espresso-style, just ground medium-fine. (The only problem is now my daughter is drinking it, too!) Danke, Herr-Doktor Heisenbrew!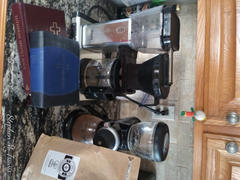 06/16/2020
Zoe K.

United States
Love it!
I love this coffee! It's my new favorite now!
07/14/2020
Coffee by Gillespie
I need more stars but there are only 5.
Tenebrae is so good.... I used in drip, medium grind from beans. Initial taste is almost fruity, then it takes a hard turn and tastes like a subtle cocoa and nuts that leaves the flavor of warm undercooked chocolate chip cookies in your mouth, but not strong or sweet, just enough to keep you wanting more. So I ordered more. Please tell me this is not a limited coffee. Thank you and God bless.
06/20/2020
Coffee by Gillespie
It's a regular blend for us!
04/17/2020
John Z.

United States
Great coffee!
Thanks! I'm really enjoying my Tenebrae Organic Espresso while working from home. My wife and kids keep commenting how good it smells when I pour it from my French press.
11/05/2019
Philippe

United States
Two years of outstanding coffee
I've been receiving Tenebrae monthly for almost two years now. It is my daily Americano (or two or three). Fantastic roast every single month, never burned, always flavorful, and a perfect crema every time. I love this roast and this great company.