Ethiopia Yirga Cheffe Baraka Buna
---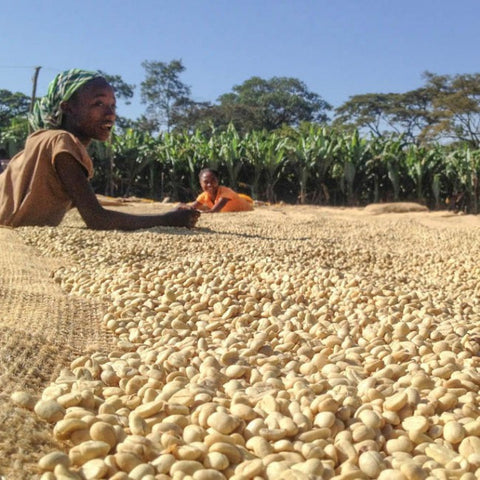 Intense sweetness, perfumey florals, and clean, well-defined flavors through the long finish. The body is transparent, and suits the dynamic, bright cup character as well, and the bracing acidity lends structure to the overall mouthfeel of the Baraka Buna. Truly a stand out coffee in light roasting, and big body lends to it's ability to stand up to darker roasting as well.

Processing: Wet Process
Varietal: Hierloom Varietals
Baraka Buna means first coffee in the Amharic language, and it seems a perfect fit for this early arrival of Yirga Cheffe . It comes from the Kochore area, the mill being located not far outside the town of Chele'lektu. The cup quality is top notch. Kochore has produced some of my favorite Yirga Cheffe coffees in the past, with a highly aromatic cup and intense, lively brightness. While the coffees from some stations in the surrounding regions may have started off strong a few years ago, we've seen a decline in cup quality the past couple of years (in particular coffees we've bought from the west in Deri Kochoha), but have consistently found spectacular quality from this particular station in Chele'lektu. Large harvests can be a boon to farmers but also difficult at the wet mill to manage the quality, especially creating enough space on the drying beds. The last couple of years I traveled around and saw some stations, like this one, managing the large volumes quite well and others floundering under the pressure, taking coffee of the drying beds when it was too wet, or layering coffee too thickly. This is the fourth year in a row we've bought from this station, and each year they deliver one of our best Ethiopian coffees of the season. This lot was prepared to Grade 1 standards, and the altitudes of area farms range from 1800 to 2100+ meters.
Description from Coffee Shrub.
---
Customer Reviews
Really Quite Delicious
I was quite impressed with the balanced yet robust flavor of this coffee. Tending toward chocolate notes, lightly acidic, very balanced.
Off the bat - an incredibly earthy smell. Powerful, almost...
Off the bat - an incredibly earthy smell. Powerful, almost like fresh tilled wet soil. As for the taste - it tastes... heavy, substantial. Lots of body. My grandpa would have said, "This will put hair on your chest" - but it's not harsh or percussive. It doesn't punch you, but there is heft. As for specific flavors - I'm not getting a bunch popping out. It's not overly complicated or floral - just here it is and there it goes. The heaviness doesn't linger - there's weight, you swallow... it's gone. Not a lot of freshness in the aftertaste. There is a lingering tip and front side of the tongue earthiness. It is what commercial dark roasts (like Folger's Black Silk) wish to be. It's just a solid dark coffee.
Thanks for your tasting notes. I did roast this a little...
Thanks for your tasting notes. I did roast this a little darker than most Yirga Cheffe. If I had gone slightly lighter, the fruit would be more pronounced but also the grassy, floral notes. You caught exactly what I was aiming for. Balancing the earthy tones with the roast heft.